ESL Continues to Anger Fans with Katowice Majors Schedule
ESL Continues to Anger Fans with Katowice Majors Schedule
The Majors are a big deal in Dota 2. Like many professional sports, Dota 2 operates off of a point system, allocating points to teams based off how they place in Major and Minor tournaments. ESL One Katowice is one of eleven Majors of the competitive year, and since it is taking place in Poland – a huge local for esports – it is a major event for viewers. Unfortunately, ESL has chosen to turn what is usually a three-day event into two days, cramming all the events over the course of a weekend and infuriating fans that are already quite peeved with the organization.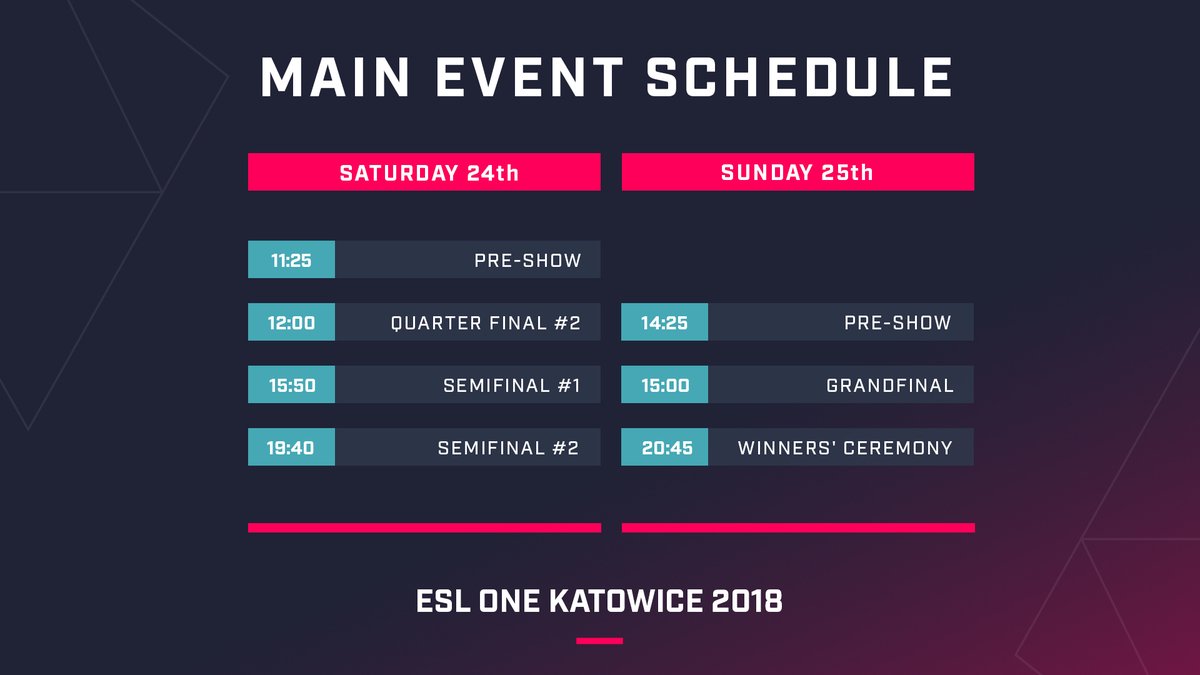 See how it starts with Quarterfinals #2? Yeah, that's part of what is pissing people off.
What has upset fans most about the event isn't the price associated with it. In fact, the prices for nearly all esport events are remarkably reasonable, and the ESL One Katowice Major has – like many Major events – a free option for viewing the game. All fans have to do is wait in a non-priority line that is first come first serve. Priority tickets merely ensure fan signings and other benefits, so it's safe to say that fans aren't crying out because of the two-day ticket price.
It's more accurate to say that what is upsetting fans is that the event has become much smaller – namely because the ESL is only letting fans see a fraction of the tournaments. Instead of seeing the full competition, fans will only be eligible to watch the second quarter final, the semi-finals, and the grandfinal – which is a bit of a slap in the face. This wasn't necessarily announced so much as shown in a single infographic, and it wasn't made very clear for many fans while they were buying tickets.
It doesn't help matters that this comes on the heels of the ESL's fiasco regarding Facebook streaming. Essentially, Valve has left the broadcasting of tournaments in the hands of organizers, so when ESL decided that all broadcasting of their tournaments would now be through Facebook, Valve didn't have much to say (even if fans were furious). But when ESL went a step further and started issuing DMCA takedowns for streamers commenting on games, well, Valve had to step in and tell the ESL that not only wasn't something they could do, but it wasn't in the spirit of the game. Aside from being humiliating, it immediately put the ESL on the wrong side of the fans.
This recent move has certainly hurt fans, especially because many bought tickets under the false impression it was for three days or at the very least to view all the matches. ESL has since responded on Reddit to apologize and fix the mix-up, but it doesn't look like they are sorry that they cut games and days, just that fans were upset about it. We'll have to see if ESL changes up their game, but it looks like they might be running out of bridges to burn if they keep to their ways.
Quantic Dream Created Hundreds of Offensive Photoshops of Employees Read Now
Pokemon Go Update Promises More Adventures With New Quest System Read Now
Biomutant: The New 'Kung-Fu Fable RPG' from THQ Nordic Read Now
PUBG Bans 1 Million Players In January and It's Only Getting Worse Read Now
CLG Rising and the Fall of Echo Fox in Week 3 Read Now
FOLLOW EKGAMING ON SOCIAL MEDIA
©2017 EKGAMING. All Rights Reserved. Designed by EKGAMING