Dark Souls Remastered and Trilogy Box Releasing on May 25
Dark Souls Remastered and Trilogy Box Releasing on May 25
The game that changed gaming forever is being remastered and repackaged for all platforms. While From Software has said that Dark Souls 3 was the finale to the series, Dark Souls: Remastered will allow fans one final journey through Lordran, and they will be able to do it on the platform of their choosing – even on the Switch.
Having first released in 2011, Dark Souls is one of few games to have changed the gaming landscape. It has given rise to dozens of copycats, imitators, and homages in the form of 'souls-esque' games. Souls-esque can mean many things, but generally it means challenging, unforgiving gameplay coupled with an advancement system nearly identical to the Dark Souls series. Players earn souls (or currency in other games) from fighting enemies, but upon death, they lose all that currency or drop it to be claimed later.
In the seven years since its release, Dark Souls has quickly become a legendary title leaving a lasting legacy. While the difficulty of Dark Souls inspired many game, so too did the gameplay, which featured the most polished combat and most intricate hit boxes of any game before. This, too, is something that many games have copied. Last year, Nioh, a samurai inspired game that borrowed heavily from the hack-n-slash hitbox focused combat of Dark Souls was released to much acclaim and attention.

In the tradition of most remasters, it's likely the only changes coming to Dark Souls: Remastered will be graphically. The PC, PS4, and Xbox One will all share 1080p, 60 fps gameplay. The Switch will lag slightly behind with 1080p, 30 fps, and, if used in handheld mode, this will deteriorate to 720p, 30 fps.
Dark Souls: Remastered will release on May 25 of this year.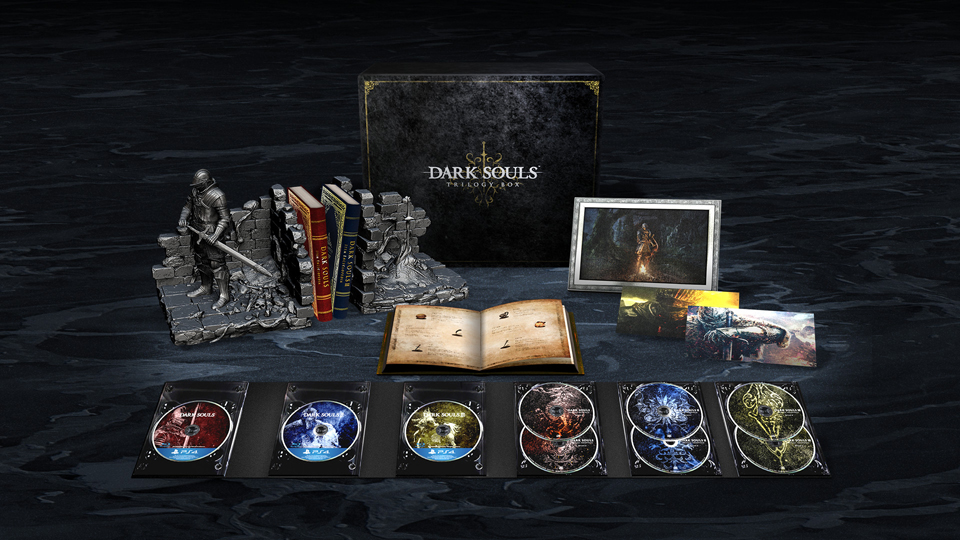 From Software has also announced a "DARK SOULS TRILOGY BOX." Releasing a day before the remaster on May 24, the box will include:
"① Original book end
A book end with a total width of about 34 cm and a total height of about 19 cm, with a motif of "Kaito Fire" symbolizing the series and a knight. As a book end, of course, you can enjoy it as one diorama.
② Original disc case
It is a newly designed disc case containing a game disc and original soundtrack CD (6 sheets in all) containing BGM in the game.
③ Item dictionary
It is an item dictionary covering images and introduction texts of all items appearing in the series, such as magic and equipment. It is packed into one volume for each title, and all three books are bundled.
④ Memorial art set
It is a set of 10 special art prints and a dedicated frame that can decorate art prints."
Valve Pulls Galaxy Battles Tournament After Philippines Announces New Drug Laws Read Now
League of Legends Worst Troll, Tyler1, Has Been Unbanned Read Now
Paladins Adds Battle Royale Mode Called 'Battlegrounds' Read Now
Hidden Gems – The Shadowrun Series Read Now
The Destiny 2 Forums Are Still Burning Read Now
FOLLOW EKGAMING ON SOCIAL MEDIA
©2017 EKGAMING. All Rights Reserved. Designed by EKGAMING