The worst troll in league of legends history gets permabanned
The worst troll in league of legends history gets permabanned
A short time ago we covered the most notorious troll in League of Legends history, Elave. Elave became infamous in Korean professional play for doing everything in his power to keep his rank low so he could continue to rack up wins on his favored champion, Master Yi, against less skilled players. He was everything wrong with the LoL community, and he was a stark laugh in the face of Riot's attempts to police toxicity. However, Elave has finally fallen. After two seasons and over 1000 games spent intentionally feeding or trolling low elo players, Elave has been permabanned.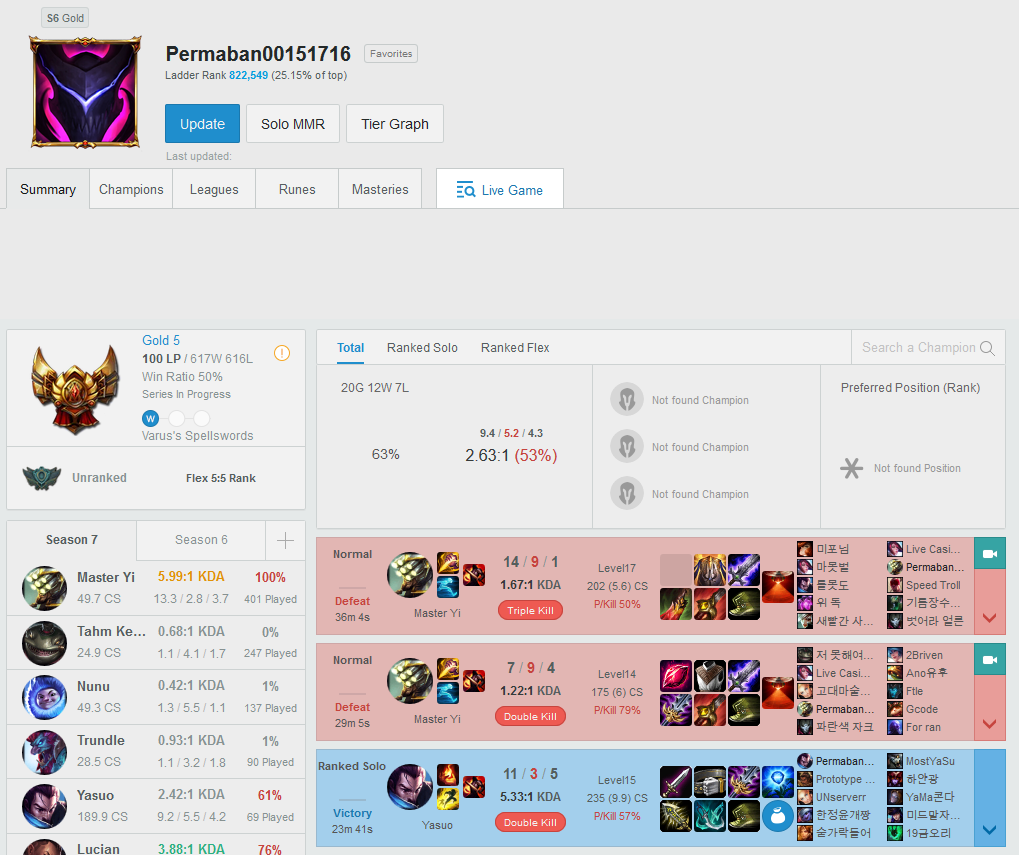 Reddit user DudeCasual is largely responsible for bringing Elave to the attention of thousands of Summoners and for helping videos of Elave reach hundreds of thousands of views. He also broke the news that Elave had been first slapped with a two-week suspension, and then a permaban when he continued trolling. We are all for giving people a second chance, but it seems a little pathetic to punish two years of hard, consistent trolling with two weeks and to have the offender essentially mock attempts to curb his behavior.
However, we are relieved that Riot took a step in the right direction. We are even happier that the community has a win under its belt and for all those abused by the sytem, but it is a little bittersweet. It never should have taken hundreds of thousands of summoners combined anger to get Riot Korea to take notice of such a heinous player, especially considering how often he was reported.
This should be a lesson that Riot and the community never forget. Just as Redditors mockingly memorialized Elave, so too should Riot. He is a now a part of the game's legacy, for better or worse, and always looked at s something to do better than. Maybe Riot could immortalize him as a skin for his favored troll, Nunu, or for his true nature as Trundle. Maybe it would be more appropriate, though, for Riot to simply take a label maker to their dumpster and immortalize him in the most appropriate way. However it plays out, it is a good day for summoners.
Final fantasy XIV reaches 10 million users, Rivals peak WoW Read Now
Capcom makes the same mistakes with Marvel vs Capcom: Infinite Read Now
Why Patreon Could be the New Platform for Indie Devs Read Now
Call of Duty: WWII Beta Has over 20,000 Negative Reviews Read Now
H2K's Second Letter Tells Riot to Pay $7.6 Million to EU Teams Read Now
sign up for our newsletter
GET THE LATEST NEWS. 
NØ SPAM. MUCH INFO. WOW. 
sign up for our newsletter 
GET THE LATEST NEWS. N

Ø

 SPAM. MUCH INFO. WOW. 
FOLLOW EKGAMING ON SOCIAL MEDIA
©2017 EKGAMING. All Rights Reserved. Designed by EKGAMING